Dr. Jason Franchi, DC
Hi, my name is Dr. Jason Franchi. I was born and raised in the Pittsburgh area. I did my undergraduate studies at Slippery Rock University and graduated from Northwestern Chiropractic College. In 2021, I completed the University of Pittsburgh Primary Spine Practitioner  program, a one-year intensive certification program for non-surgical spinal practitioners. I now live in Upper St. Clair with my wife, Jessica, and my two sons Enzo and Eli.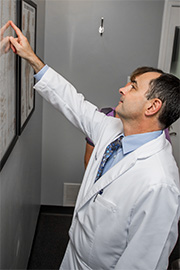 I started wrestling when I was in first grade and continued until I was a senior in high school. I have had my fair share of aches and pains. During a wrestling tournament when I was in fifth grade, I had my neck twisted extremely hard. As a result, I immediately felt excruciating pain and numbness in my left arm which is called neuropathy. Thankfully, my uncle was a chiropractor. After the first treatment, the pain began to lessen and I began to get feeling back into my arm. The pain and numbness all but disappeared after several more adjustments. To this day, I still have my spine adjusted at least once a week so that I will not have any reoccurrences of pain.
As you can see through my personal experience, I believe chiropractic can help an individual with pain and suffering. Not only is chiropractic safe and effective for adults but children also. Our kids deserve to live a healthy life. As a doctor of chiropractic, I have treated all ages of patients from senior citizens to premature newborn babies. Not all patients are treated the same way but with the same goal in mind, that goal is to live a healthy lifestyle.